On June 24, 2022, the time had finally come for Machine Factory Mönninghoff to hold a proper opening ceremony for its new headquarters in Bochum. Even though the company had already been operating in the new building for several months, however, no celebration could take place due to Covid reasons.
The approximately 200 guests were welcomed in a warm speech by Mrs. Charlotte Finger and Mr. Bodo Finger. Afterwards the guests had the opportunity to have a lively exchange with the employees of the company Mönninghoff during a standing lunch.
On this opening day, all doors were literally open to all visitors. They were allowed to start their own exploratory tours to discover the new control center of Mönninghoff. The open architecture and a time capsule buried in the ground in the entrance area are very impressive. Likewise, some relics from the former headquarters on Bessemerstrasse were recycled in the new building, which is meant to remind us of the company's origins.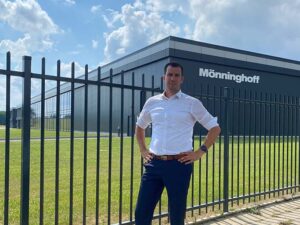 It was an completely successful event, to which Miki Pulley Europe CEO Matthias Klos was also invited. On this special occasion, Mr. Klos presented a sculpture by a Japanese artist, which had been donated by Miki Pulley Japan headquarters.